Fallah Kaeir Hafez wama bekom men nemaa
SKU: LT-QU-036-C-2
From Surah Al Nahl "And whatever favor is (bestowed) on you it is from Allah's grace in a mesmerizing classical colors and islamic design .
Product Dimensions: 170x60 cm
Pieces: 2
Basic Specifications / Features: Printed on Artificial leather. Kindly note that all paintings have been photographed under warm lighting, a discrepancy percentage between the image and the actual product can be 8%, We recommend that you adjust your screen brightness to 80% in order to achieve most realistic results.
Delivery 10-7 Business days.
Great Collection
Great Collection of Paintings and Cautions.
The service was amazing and staff are very friendly.
Very happy with the service provided.
Highly recommended. Top quality range of all products.
Your talent
I admire your work ethic and your talent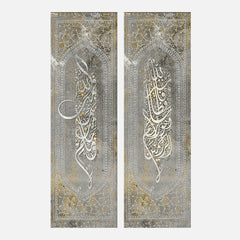 Drag me