Names of Allah II
SKU: P-NA-009-A-1
The Almighty said: By Allah, the names of Allah are one hundred (Allah's Messenger, Allah bless him and grant him peace). So call upon Him one by them and excel those who deny Him in His names. He will grant me the names of nine of what they used to call. Allah has ninety-nine names, one hundred but one, whoever counted them will enter heaven.
Product Dimensions: 100x70 cm
Pieces: 1
Basic Specifications / Features: Printed on Artificial leather. Kindly note that all paintings have been photographed under warm lighting, a discrepancy percentage between the image and the actual product can be 8%, We recommend that you adjust your screen brightness to 80% in order to achieve most realistic results.
Delivery 10-7 Business days.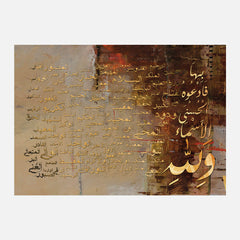 Drag me