Allahoma barek hatha albayt
SKU: P-PP-191-B-1
Areeq's Poetry & Proverbs paintings are filled with pure words of wisdom and magical rhymes and verses that are strikingly displayed with color-infused designs of Arabic Calligraphy.
Product Dimensions: 70x100 cm
Pieces: 1
Basic Specifications / Features: Printed on Artificial leather. Kindly note that all paintings have been photographed under warm lighting, a discrepancy percentage between the image and the actual product can be 8%, We recommend that you adjust your screen brightness to 80% in order to achieve most realistic results.
Delivery 10-7 Business days.
Amazing & Fine art
The most beautiful art work I own! High quality and gorgeous colors. I would totally recommend everyone purchasing such fine art from Areeq. They helped me via whatsapp messaging and were fast to reply. The art in my house has so much value and meaning thanks to you guys.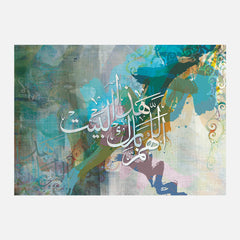 Drag me