W Fi Alqalb Sabron Llhabib Walaw Jafa
SKU: P-PP-059-B-1
"In the heart there is patience for the beloved, however didn't He/ She maybe " Poetry by Imam Al-Shafi'i , renowned islamic cloch where he gives a magnificent description about love & loyalty in inique colour and modern design.
Product Dimensions: 70x100 cm
Pieces: 1
Basic Specifications / Features: Printed on Artificial leather. Kindly note that all paintings have been photographed under warm lighting, a discrepancy percentage between the image and the actual product can be 8%, We recommend that you adjust your screen brightness to 80% in order to achieve most realistic results.
Delivery 10-7 Business days.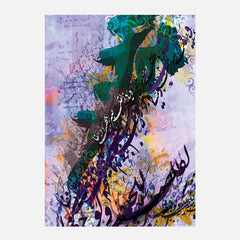 Drag me