Ahen Ela Khobz Omi
SKU: P-PP-089-B-1
I long for my mother's bread & my mother's coffee" by Mahmoud Darwish & sang by Marcel Khalifa; a great expression on love & passion for mothers in a unique combination of colors and design
Product Dimensions: 70x100 cm
Pieces: 1
Basic Specifications / Features: Printed on Artificial leather. Kindly note that all paintings have been photographed under warm lighting, a discrepancy percentage between the image and the actual product can be 8%, We recommend that you adjust your screen brightness to 80% in order to achieve most realistic results.
Delivery 10-7 Business days.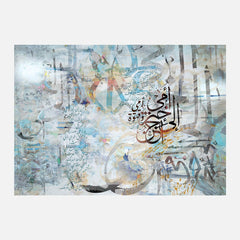 Drag me