Wa man yoathem shaaer Allah 
SKU: P-QU-041-C-1
"That (shall be so); and whoever respects the signs of Allah, this surely is (the outcome) of the piety of hearts." from Surah Al Hajj in a combination of classical Islamic design, font and modern design. 
Product Dimensions: 70x100 cm
Pieces: 1
Basic Specifications / Features: Printed on Artificial leather. Kindly note that all paintings have been photographed under warm lighting, a discrepancy percentage between the image and the actual product can be 8%, We recommend that you adjust your screen brightness to 80% in order to achieve most realistic results.
Delivery 10-7 Business days.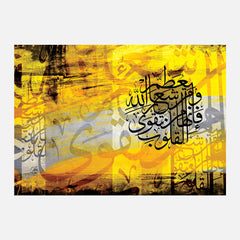 Drag me