Wayabqa Wajh Rabek tho aljalal walekram
SKU: P-QU-144-C-1
Areeq's collections of vibrant and lively religious paintings are filled with religious meanings that express the realities and beliefs of Muslims. Each and every soulful painting is adorned with the wise words of Allah
Product Dimensions: 100x70 cm
Pieces: 1
Basic Specifications / Features: Printed on Artificial leather. Kindly note that all paintings have been photographed under warm lighting, a discrepancy percentage between the image and the actual product can be 8%, We recommend that you adjust your screen brightness to 80% in order to achieve most realistic results.
Delivery 10-7 Business days.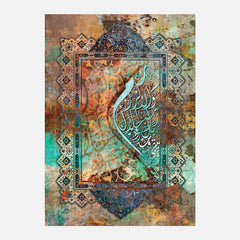 Drag me